We recently had previous clients contact us to build their second custom home with DH Custom Homes. We are honored and thrilled to be working with them again! They have challenged us to be creative, think outside of the box and create a truly terrific custom home. We are still in the early phases of construction but so far this home has been a great example of how a luxury, unique custom home can be designed from the imagination and needs of a homeowner in a matter of weeks and at an affordable price.
Here's the scenario:
The family reached out to us wanting to tear down a home they owned on Wild Horse Creek Road and design a unique home plan. We took them through our DH process and helped them design a plan from scratch quickly and efficiently while staying within their budget. Designing a custom home might seem like a scary and lengthy process, but it really doesn't have to be! In the following blog, we break out the steps for this custom home project to show you how quick and seamless a project can be.
The goal:
To design a totally custom home for the family that was a smaller, nicer home with one main living/dining space and other spaces and features they wanted under a very determined budget.
The home details: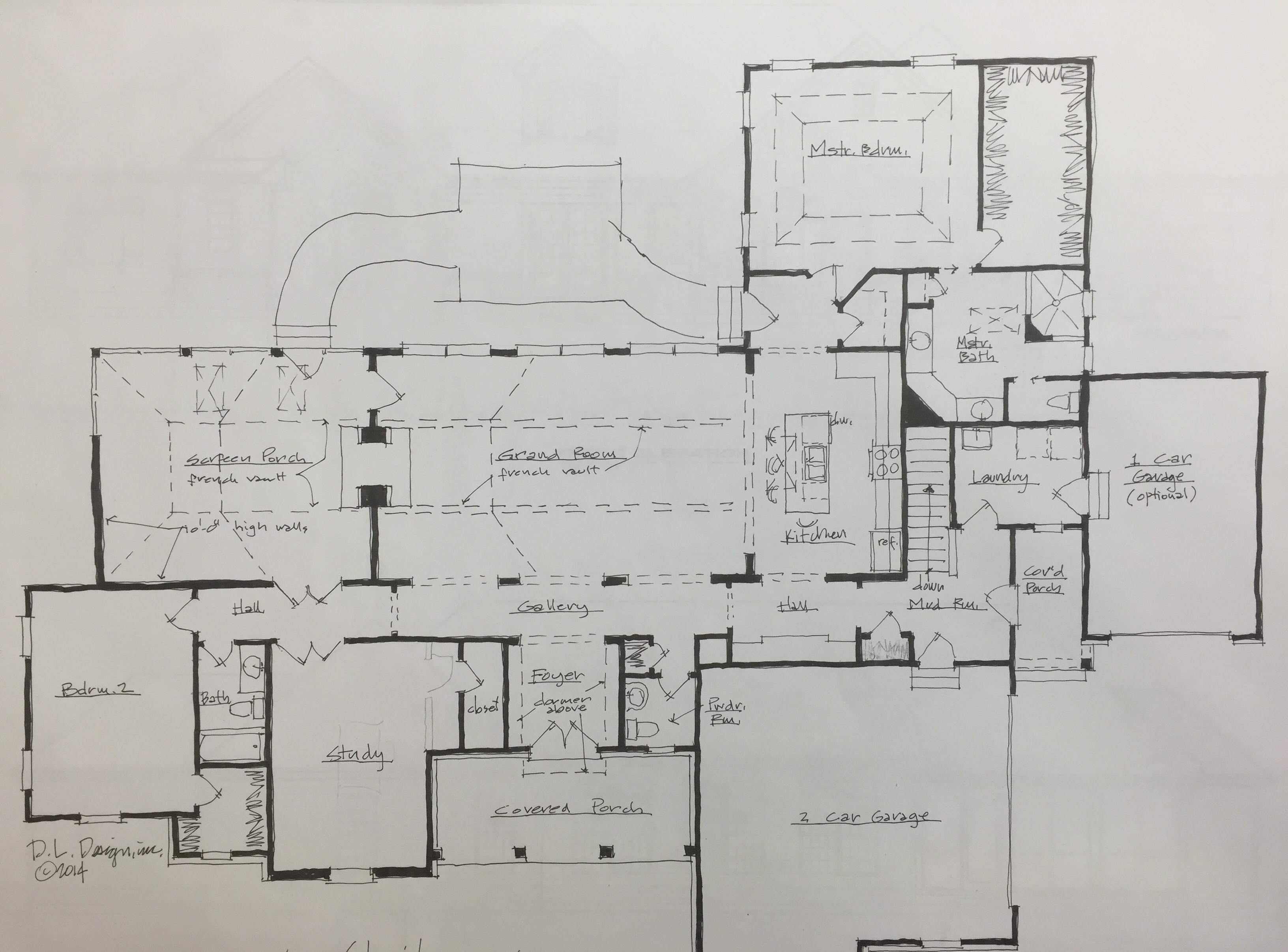 This is a 2,530 square foot ranch home packed with incredible features while on a budget. It has three bedrooms, 2-1/2 baths, formal foyer, formal gallery, grand room for living/dining, gourmet kitchen, large laundry room, amazing closet space, beautiful screened-in-porch and a very unique patio design with lots of access and views from the interior of the home. It also features beautiful custom masonry and James Hardie Lap siding and stained cedar shutters and wooden front door.
As you'll see in the following timeline, within a few short months we went from initial meeting to breaking ground on this completely custom home.
Our DH Timeline:
Introductory Phase- 07.19.14
We had the initial meeting with our client to discuss their needs, vision and budget for the project. We then followed up with sketches of floor plans and elevation for the home design and preliminary pricing.
Execute Pre-Construction Services Agreement (PSA) – 07.29.14
The clients were thrilled with the sketches and how we were able to include all the features they desired within their budget. We then moved forward in the process of building their dream home and developing architectural plans.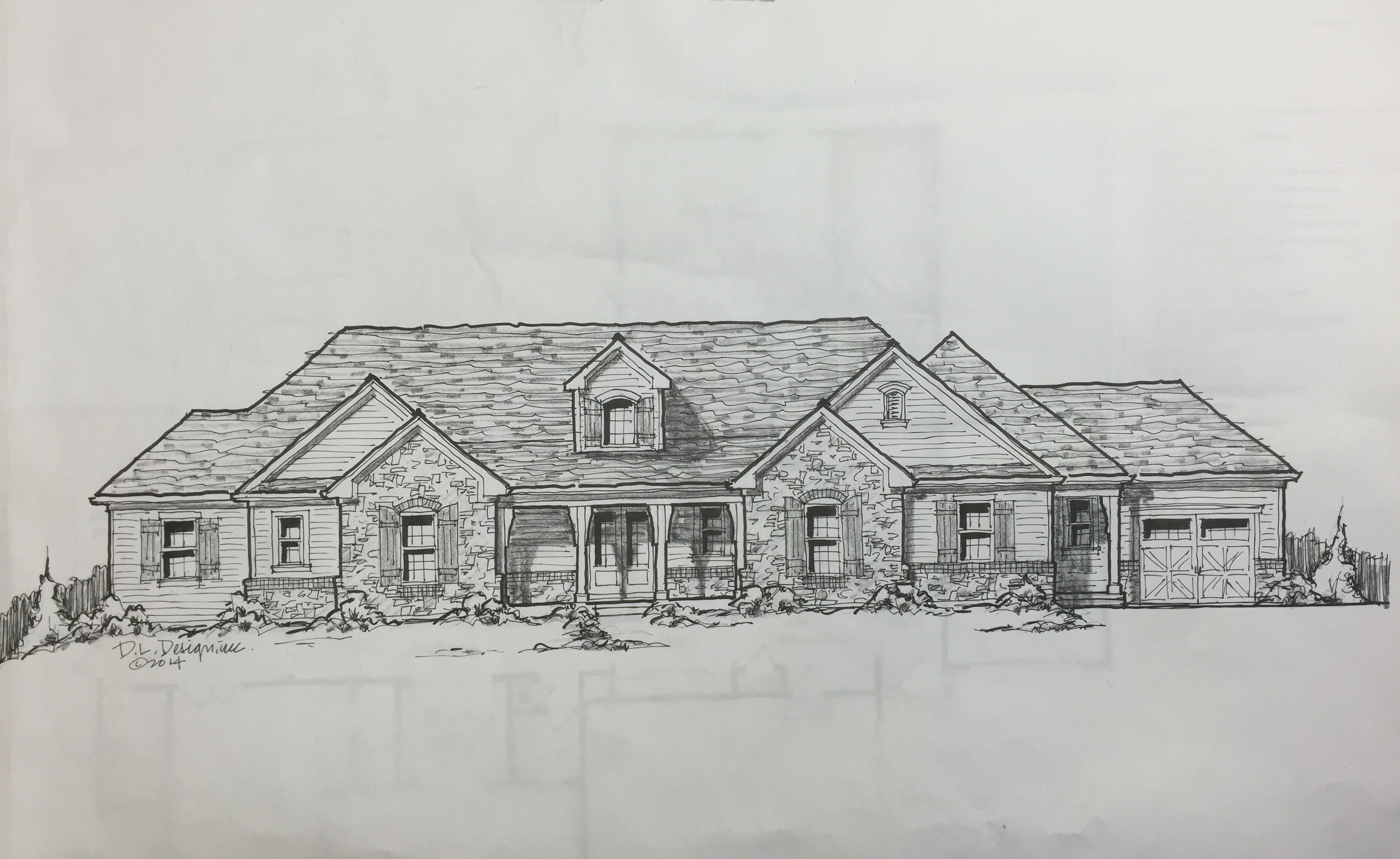 Conceptual Design Meeting with Architect (PSA) – 08.05.14
We had the first meeting with the architect to introduce the clients and present the proper information to get the architect started on drawings.
Conceptual Design Review Meeting with Architect (PSA) – 08.19.14
The architect presented the initial conceptual plans with floor plans and front elevation to us and the clients. DH and the client reviewed the plans, and they were approved.
Design Development Plan Review with Architect (PSA) – 09.09.14
The architect presented the design development plans with floor plans and all elevations to us and the clients. DH and the client reviewed the plans, and they were approved.
Execute Construction Agreement – 09.12.14
The contract was completed. About five to ten days after executing the construction agreement, the clients attended a "Let's Get Started" meeting and commenced the fun part of making material and color selections for their new home.
Finalize Material and Color Selections- 11.24.14
The goal is to have all material and color selections completed by Day 43 after initial contract. The actual meeting, referred to as the Firm-Up, for these clients was a little delayed and combined with other action items because of scheduling conflicts for the homeowners.
Close on Construction Loan, Execute Construction Loan Escrow Agreement, Remit Balance of Construction Deposit and Notice to Proceed- 11.24.14
Pre- Construction Meeting- 11.24.14
Prior to the start of the new home and after all selections and final plans have been completed, there is a Pre-Construction Plan Review Meeting.  DH reviews the entire construction sequence and details of the new home plan, the home site, and all material and option selections.  The plan review is an important final step prior to the start of construction. At this time, we will have a good idea of when construction should begin and, based on that date, the projected closing date.
Site Preparation Work and/or Demolition- 12.03.14
DH works with all the proper authorities to demolish any existing home and prepare the site for construction of a new custom home. In this example, we began demolition on December 3.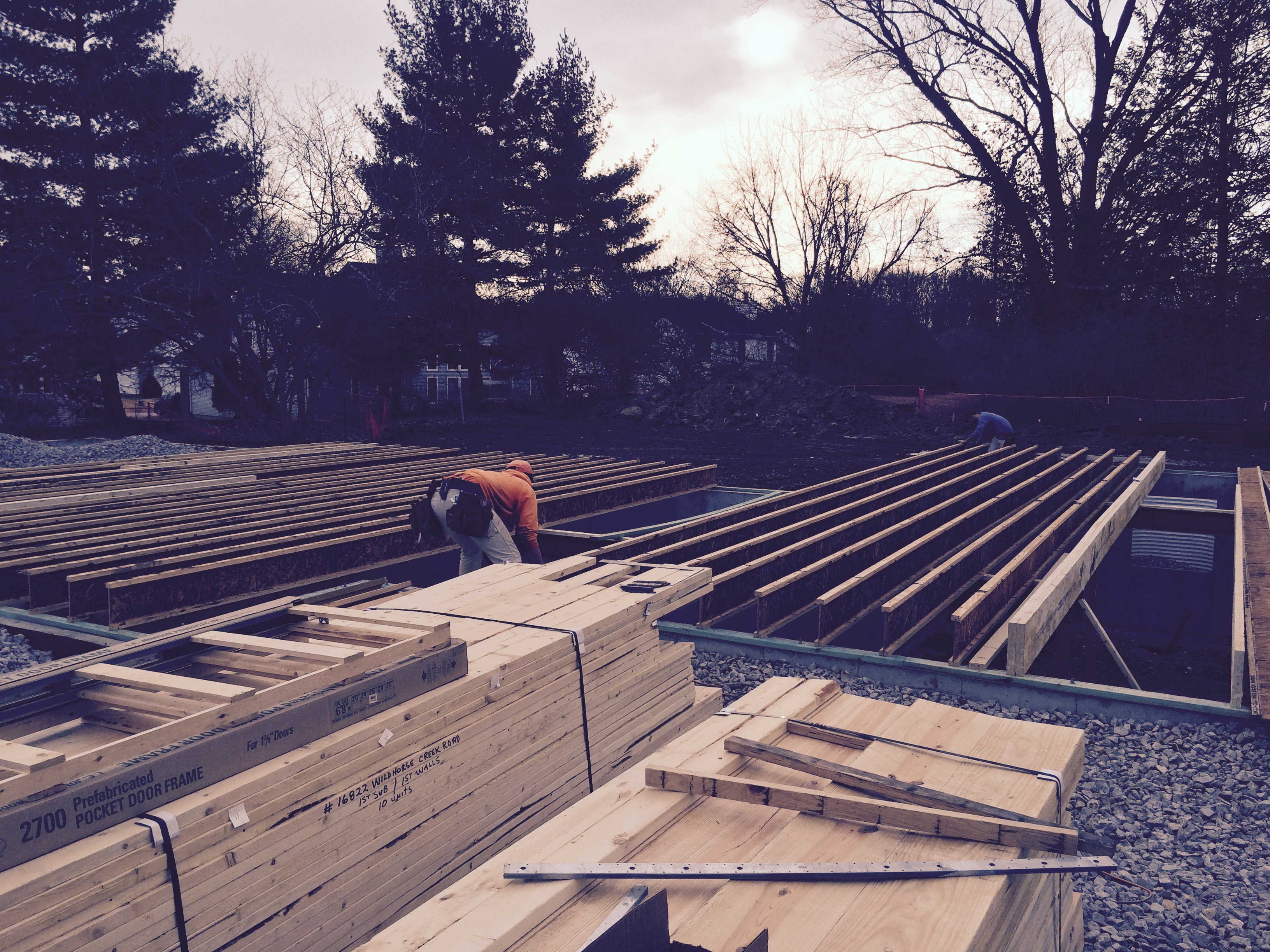 The Dig Date: Commence Construction – 01.09.15
DH began construction of the new home. We are under way!
Stay tuned for pictures of the completed project, we are delighted with the progress.
We are having a great time working with the homeowners again on this custom home. The only thing we love more than building custom homes for people is getting the opportunity to work again with our DH and Hayden Homes homeowners on custom homes and renovations projects. It's rewarding to know they are happy enough with their DH experience and home to work with us again.
If you're interested in finding out more about how you can design and build a custom home or renovation project, we'd love the opportunity to talk with you.