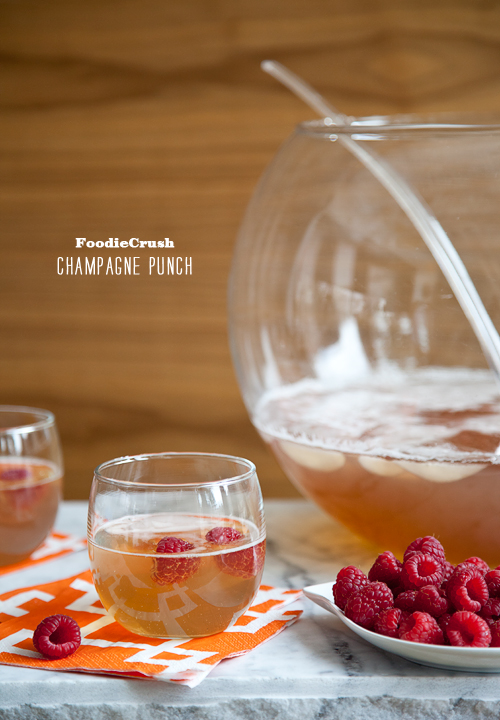 Food is more important on Thanksgiving than any holiday of the year – well, in the Hayden family anyway. We have lots of from-scratch family recipes with special steps and particular methods. It can get a little overwhelming, and we have to make shortcuts somewhere. That's why we always serve up punch in a punch bowl on Thanksgiving. It looks decorative; it's yummy; and, most importantly, it's a huge time savings because it's an easy do-ahead. It also allows more time with family and friends because it frees up the hosts and hostesses from bartending all night while providing guests easy access to a delicious, refillable cocktail.
This year, we wanted to do something a little different. I love French 75's and had found a great French 75 punch to serve up on Halloween. It inspired me to look for a Champagne Cocktail punch. We ended up finding this champagne punch from foodiecrush.com. We are looking forward to trying it. It offers a rather delicious sounding non-alcoholic version, as well.
1 cup triple sec or Grand Marnier
1 cup brandy
1 cup Chambord, or other raspberry flavored liquor
2 cups unsweetened pineapple juice
1 quart chilled ginger ale
2 chilled (750 ml) bottles dry Champagne
2 cups raspberries
In a large bowl, combine the trip sec, Chambord, brandy and pineapple juice. Chill covered for at least 4 hours or for best results chill in the fridge overnight.
When ready to serve, combine triple sec, ginger ale, Champagne and ice cubes. Garnish with raspberries and serve. If you don't want to water down the drink, try adding frozen rasberries.
Happy Thanksgiving from our family to yours!