Bigger is not always better. At least that is what you will see with a new custom project we kicked off recently.
We were excited to get started on a home theater project for a Chesterfield family. One because home theaters are fun projects for us. And, two, because this one came with a bit of a challenge. We had to design the theater into the space where homeowners desired – a small unfinished area off of their finished lower level.
The good news is that with careful design, we got it in and when it's complete the homeowners will have a beautiful home theater that seats about 11 with seven in theater seating and four on stools at the in-theater bar.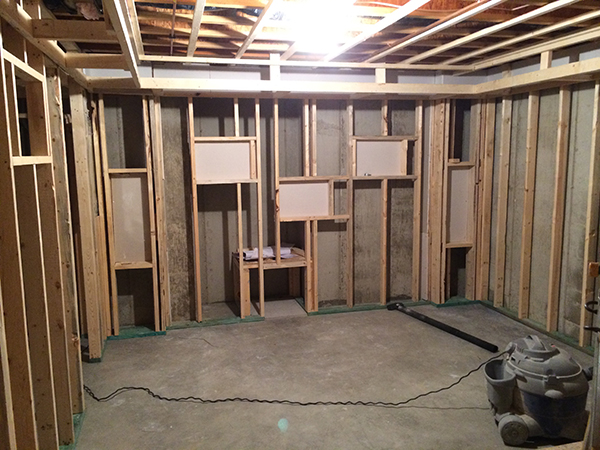 Our design also includes the special touches:
Artistic lighting for movie posters in the vestibule outside the theater.
An elevated floor so they have graduated floor height for the theater seats.
A large screen, about 102' x 60', with speakers behind for through-the-screen sound.
Beautiful cherry trim throughout the home theater.
The theater will be outfitted with technology and lighting to enhance performance and aesthetics of the small space.
Acoustical wall and ceiling panels. And, resilient sound-channel drywall and insulation surrounding the theater walls and ceiling to control sound and vibration to other areas of the home.
"Kudos to Dennis and the team, especially Dennis I really credit in terms of creativity with the design," said Jeff Davis, homeowner. "They have packed a premiere theater into a fairly constrained space and I think it's turning out very well." Hearing this type of feedback from our clients is our favorite part of the job.
Just because you may have a challenging space does not mean that you cannot dream big. At DH Custom Homes, we love the challenge of matching your aspiration with your budget and home.
Check back for updates on this project.