One trend we've noticed over the past couple months are elaborate and detailed staircases and entryways! Whether you have a stairway in the entry of your home, or one located in the center of it, your entryway can be an eye-catching centerpiece for your home. Imagine greeting your guests at a holiday party, or capturing memories of your kids as you take pictures of them descending the stairs on their way to their first homecoming or prom. Not only is this space a functional necessity for a multi-story home, but it can transform a home and become a shining feature.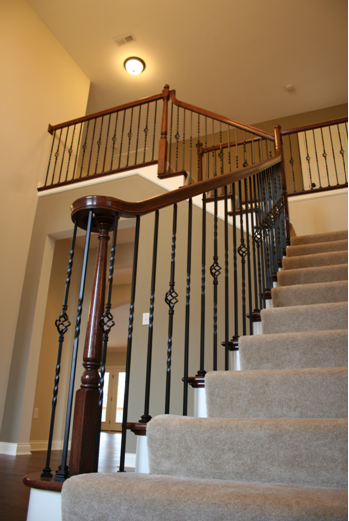 The newel posts, balusters, railing, treads and risers are great places people can play around and be different and creative with staircases. There are hundreds of materials and styles to choose from, traditional to contemporary, wood to metal, that allow a distinct and unique custom feel, without busting your budget.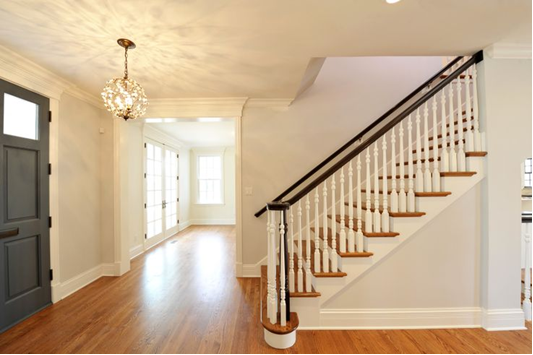 The staircase is a great place to combine old and new styles and concepts to personalize your living space. You don't have to feel forced into a certain feel or style when building your custom home! Perhaps the majority of your home has a modern, chic look, but you want to pull in a vintage feel. No problem! This DH Custom Home entryway and staircase brings a great vintage charm to the home.
If you are really looking for something unique, stairs don't have to be the traditional wood railings and steps people have grown accustomed to. One can easily find pictures of extraordinary staircases, including stone staircases, glass staircases, specialty wood staircases, open-riser staircases and more. It's all about making your home a place you love.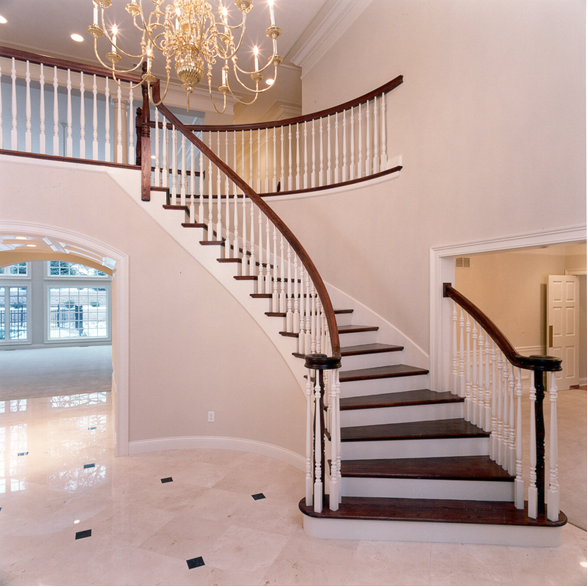 The grand entryway is just that – grand. There are so many possibilities when it comes to the design of the entryway that you can really make it unique and personal to the feel and style of the home. This has to be one of our favorite parts of the home to design seeing as it is the first impression your guest will have on the interior of your home. The use of flooring, scale, paint color and even ceiling treatments, such as a barrel vault or beautiful tray, can create an unforgettable welcome. A special light fixture can also make a WOW impression. Check out this Chilhuly fixture hanging over the staircase in this elaborate entryway. Now that is impressive!
Take that functional staircase and transform it into a structural work of art and a beautiful talking point in your home! Check out some of our custom grand foyer and entryway designs on our Pinterest.